Go FAR with a Leighton MBA
Flexible. Active. Relevant.
The newly redesigned Leighton School MBA is faster, shorter, and better than ever, making it even more attractive for busy, ambitious working professionals like you. Choosing to pursue a Leighton School MBA is a smart business decision.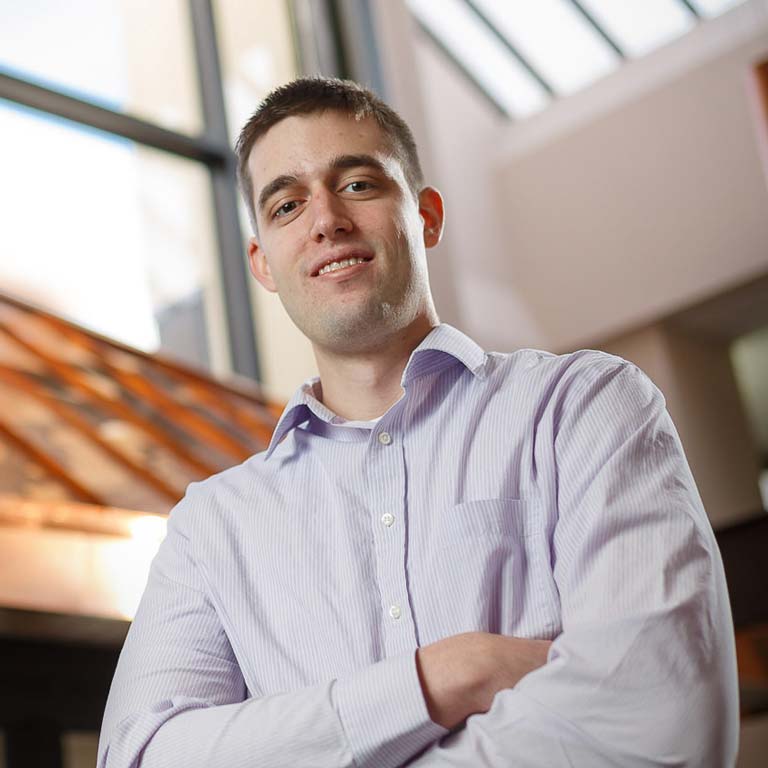 The faculty is the best part of my education at the Leighton School. The fellowship was icing on the cake.
Same Excellent Quality
Accredited by AACSB International–a distinction only five percent of business schools worldwide have earned.
Ranked 15th best part-time MBA program in the Midwest by Bloomberg's Businessweek, and 68th in the U.S.
Active Beta Gamma Sigma Chapter since 1992.
Two eight-week sessions per semester.
Classes meet weekday evenings.
GMAT test waivers may be granted to students with significant executive work history.
Three-year international undergraduate degrees from accredited institutions of higher education recognized.
The flexibility and convenience of the Leighton School MBA allows students to complete the program at their own pace, as well as manage career and family commitments.
Courses offered in a hybrid format: 50 percent in-class/50 percent on-line, increasing flexibility and limiting the time our students spend on campus.
Full-time students carrying 9 credits a semester can complete MBA degree in 18-24 months.
Part-time students taking 6 credits a semester can complete MBA degree in 24-36 months.
An Active Approach to Student Learning
Our faculty are dedicated professionals with business and industry experience. They are committed to active learning practices, so our students engage in solving cases and in real-business projects, transforming classroom knowledge into real business know-how.
Capstone Experience
Our students complete a capstone project, applying concepts learned in the classroom to their major area of interest. The projects are intended to be experiential in nature, connecting our students with the business community.
A Focus on Communication
In today's global business environment communication skills are paramount. The Leighton School MBA program prepares our students with strong teambuilding, writing and presentation skills so they excel in high-level management positions.
Building a Talented Workforce
Most Leighton School MBA graduates remain in the area, providing strong leadership and management expertise in the businesses and communities where they choose to live and work.
Relevant to Today's Global Job Market
Our students graduate from the Leighton School with a well-respected and globally recognized Indiana University degree. Whether you wish to advance in your current organization or seek a new challenge, the Leighton MBA is your ticket to take your career to the next level.
Admission to the MBA program requires applicants to provide the following:
Completed application, personal statement and resume
Official college or university transcripts from all institutions attended, except Indiana University.
Contact information for two individuals who can provide a professional recommendation online
Graduate Management Admissions Test (GMAT) score or GMAT waiver*
*The GMAT waiver is based on professional work experience and/or undergraduate academic qualifications. Please inquire for more information. 
Application fee
Applicants whose native language is not English must demonstrate proficiency in English by one of the approved assessment methods listed on the Office of International Student Services Website
Important Information for Applicants
Application Deadlines
Fall semester admission: July 15
Spring semester admission: November 15
Summer session admission: April 15
Applicant candidates may enter the program at the beginning of any regular semester.
Apply Online
Direct Admission
If you are a graduate of any IU campuses, you can now bypass the regular application process and get direct admission into our MBA program, if you (1) graduated within the past five years, and (2) had a 3.0 GPA or higher.

No application fees, tests, essays, or recommendation letters are required; you can be admitted directly to our MBA program.
Taking the first step
To learn more about the Judd Leighton School of Business and Economics Graduate Certificate in Business we encourage you to call Ms. Pat Agbetsiafa 574-520-4138 or email her at pagbetsi@iusb.edu.